Prevost Community Revenues
09-28-2015, 13:59
(This post was last modified: 09-30-2015 22:41 by travelite.)
davidbrady
Senior Member


Posts: 569
Likes Given: 46
Likes Received: 23 in 20 posts
Joined: Aug 2014
Reputation: 4
Prevost Community Revenues
What's an online forum worth? Here's a view of annual revenues collected by
Prevost Community
, an online forum and advertising site. This is the worth of your content and your eyeballs which is effectively what's being sold. This report doesn't include the revenue possibly skimmed off discount programs, appraisals, or other promotional goodies such as "Know your Prevost Seminars" at $500 per head 20 people minimum 2 sessions, which is likely in the tens of thousands. These numbers were gleaned from price schedules publicly available on their site. ("units" are the number of actual ads placed in each category, and "$/units" are the rates charged for each category, "multiplier" is for items that are charged multiple times per year; for example, 'coach sales' are billed quarterly, 'home page ads' are billed monthly, everything else is billed annually):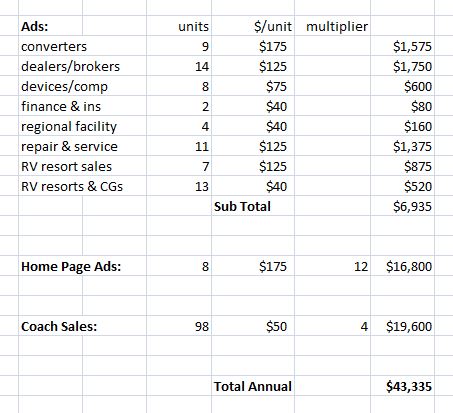 ---
david brady,
'02 Wanderlodge LXi 'Smokey' (Sold),
'04 Prevost H3 Vantare 'SpongeBob'

"there is no perfect forum there are only perfect forums"


User(s) browsing this thread: 1 Guest(s)